QUIET DRIVING EXPERIENCE
23.06.2020
ROMIRA has successfully developed innovative plastic compounds which, owing to their improved tribological properties, significantly reduce noise in car interiors.
Pinneberg/Germany, June 23rd, 2020 – Mobility is in a continuous state of transformation, in particular driving a car is constantly being further improved: Vehicles are increasingly environmentally friendly, more efficient and more and more comfortable for both driver and passengers - in recent years, for instance, the exterior noise audible inside the car has been drastically reduced. Cars are becoming quieter through new engine and tire technologies, and the interior is also better insulated.

These positive developments have, though, meant that sensitivity to noise has now shifted from outside to inside. Noise in the car interior is now more noticeable, above all the squeaking and rattling of parts moving relative to each other, of parts clipped together and plastic parts around the headliner and seat. Engineering plastics such as ABS, PC/ABS, PC/ASA, PP, PVC and leather or unsuitable material pairings pose an increased risk of squeaking. The so-called stick-slip process, i.e. the alternation of sticking and slipping when friction occurs between two parts in a multidimensional movement is responsible for the squeaking sounds. Consequently, the key to reducing the squeaking is to avoid the sticking.

Ziegler-Instruments stick-slip stand makes it possible to simulate the stick-slip effect between two material samples and to assess the potential risk of squeaking based on the Risk Priority Number (RPN). This is calculated on a scale from 1 for non-critical to 10 for critical.

While several methods can reduce squeaking, none of them have been satisfactory so far, partly because they cannot be applied to all surfaces or because they are very complex and thereby very costly. Thanks to the use of additives with a tribological effect, ROMIRA experts have succeeded in producing compounds that make squeaking a thing of the past – even without material properties changes, tool adjustments and additional work steps. ROMIRA's know-how lies in the compatibilization of the compounding process, so that the mechanical and thermal properties of the compound are maintained.

ROMILOY® compounds based on ABS as well as PC/ABS and PC/ASA with corresponding anti-squeak modification (Modiper A from NOF) demonstrate a significantly reduced risk of squeaking in the stick-slip test compared to standard compounds.

ROMIRA provides an economical and durable method for the "quiet" car interior of the future with the anti-squeak modified ROMILOY® compounds.
ABS-COMPOUNDS
Risk of squeaking before and after thermal pretreatment with ABS compounds and influence of anti squeak modification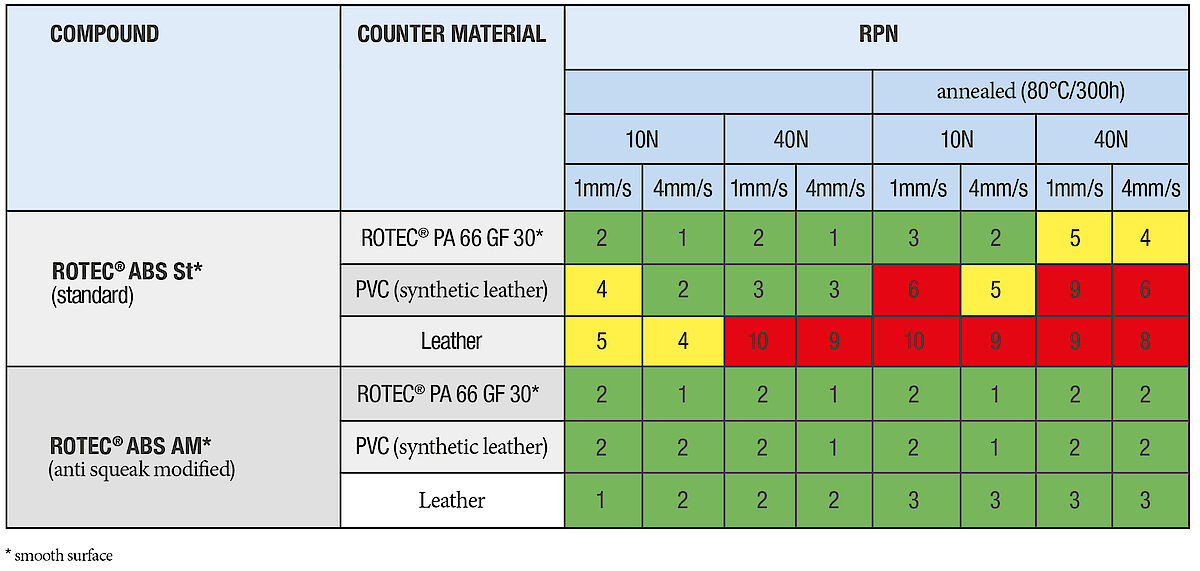 PC/ABS-COMPOUNDS
Risk of squeaking before and after thermal pretreatment with PC/ABS compounds and influence of anti squeak modification